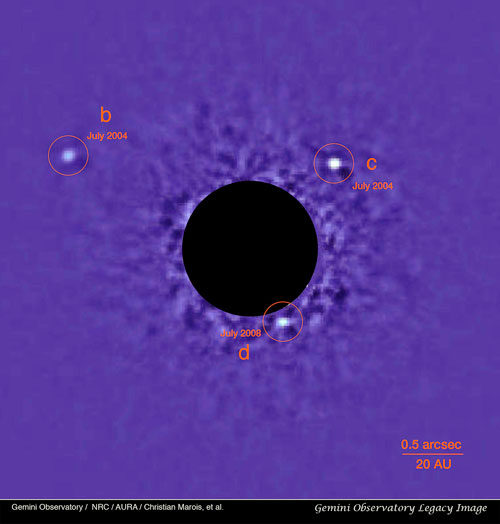 Image Credit: Gemini Observatory
In what was obviously a press release coordinated with the Hubble announcement of a picture of a planet around another star, astronomers at the Gemini Observatory in Hawaii announced today that they have pictures of two planets around a single star. This star, known just by its catalog number HR 8799, is 130 light-years away in the direction of the constellation Pegasus. Further follow-up with the Keck Observatory revealed a third planet closer to the star.
These are big planets, about 10, 10, and 7 times the size of Jupiter. Like the planet around Fomalhaut, these planets orbit pretty far from their parent star: 25, 40 and 70 times the Earth-sun distance. For comparison, Jupiter orbits the sun at 5 times the Earth-sun distance, Saturn at 10 times the Earth-sun distance, and Neptune at 30 times the Earth-sun distance.
We've entered a new era of planet discovery today. For the first time, we have a growing number of pictures of other planets. Sure, they are all bigger than Jupiter, and we can't yet see any features on those planets (they are just too far away).