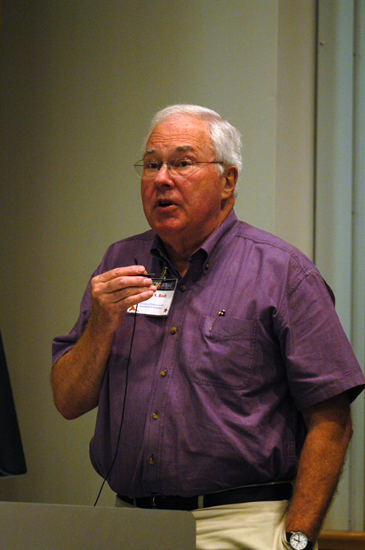 Image credit: University of Texas/McDonald Observatory
The last two days saw the third Frank Bash Symposium at the University of Texas, titled "New Horizons in Astronomy." The symposium is unique in astronomy, in that it is organized by, for, and features postdoctoral researchers (astronomers who, like myself, have completed their doctorate degrees but have not yet obtained a permanent professorship). It honors retired astronomer Frank Bash (pictured above), who was director of McDonald Observatory for 14 years, and who has always encouraged young people in science, whether undergraduates, graduate students, or postdocs.
I was one of the organizers of this year's event. I was co-chair of the Scientific Organizing Committee, the committee responsible for selecting the 13 speakers and responsible for getting people to attend the conference. My co-chair, Justyn Maund, probably did 3/4 of the work in this regard, but there was more than enough work to do! I also helped with the Local Organizing Committee, the group that takes care of logistics like finding a room, making sure there is coffee for 100 astronomers, finding accommodations for our speakers, and so on. The chair of that committee, Stuart Barnes, and our primary administrative assistant, Monica Kidd, did a phenomenal job in that regard. Everything went quite smoothly! But I think we are all exhausted after three full days of final preparations and execution of the event.
So, fresh of this experience, I now need to plunge into organizing another conference that will be here in Austin in January. This time I'll be the local organizer, as I'm the only local person in the group.